Find all Meatless Monday posts
here
.
(All MM recipes are vegan and gluten free since that's how we roll)
Welcome to Meatless Monday! It's the one day of the week we ask you to go without meat. See how you feel for just one day without meat. Or even without any animal products. It's not that hard - I promise! Especially with the recipes my husband comes up with.
Today it's all about how to make the best refried beans. Seriously. We make them on the weekends (almost every weekend) and do so many different things with them. Well, mostly we make taco bowls, but we
could
do so many things with them. Like eat them and enjoy them. :o) Yum!
Vegan Refried Beans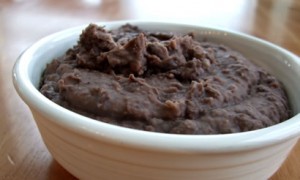 Ingredients:
2-4 jalapenos
1 yellow onion
1 green(or red) bell pepper
3-4 garlic cloves
2-3 cups beans (black or pinto, I prefer black)
6 cups water
2 tsp chili powder
2 tsp cumin
Sea salt to taste
Directions:
Chop up peppers and onions and sautee in pan until sweated through. Add to bottom of crock pot.
Add beans to crock pot - no need to pre-soak.
Cover with about 6 cups of water or so - enough to put at least 1 inch of water above the beans.
Stir in chili powder and cumin.
Cook on high for 8 hours - adding additional water as needed to keep beans covered.
Strain beans, saving the liquid.
Add beans back into pot, add salt to taste, and mash together using potato masher or hand mixer.
Add some of the liquid you drained off as needed for desired consistency.
You can make taco bowls with some spanish rice, tomatoes, olives, lettuce, and vegan sour cream and cheese. You can add these beans to a breakfast burrito with spinach, potato, avocado, tomato, etc. You can serve these up as a side dish as well. Delicious!
Eat your fruits and veggies (and beans), kids.